The Mission US team collaborated closely various advisors to develop No Turning Back, including historical scholars; former members of the Student Non-violent Coordinating Committee; other community members who were in Mississippi at the time; experts in youth development and educational media; and, of course, teachers and students. We are grateful to the many people who contributed their time, expertise, and personal stories to creating this resource and ensuring it reflects the experiences of the many young people who helped bring about change in the 1960s.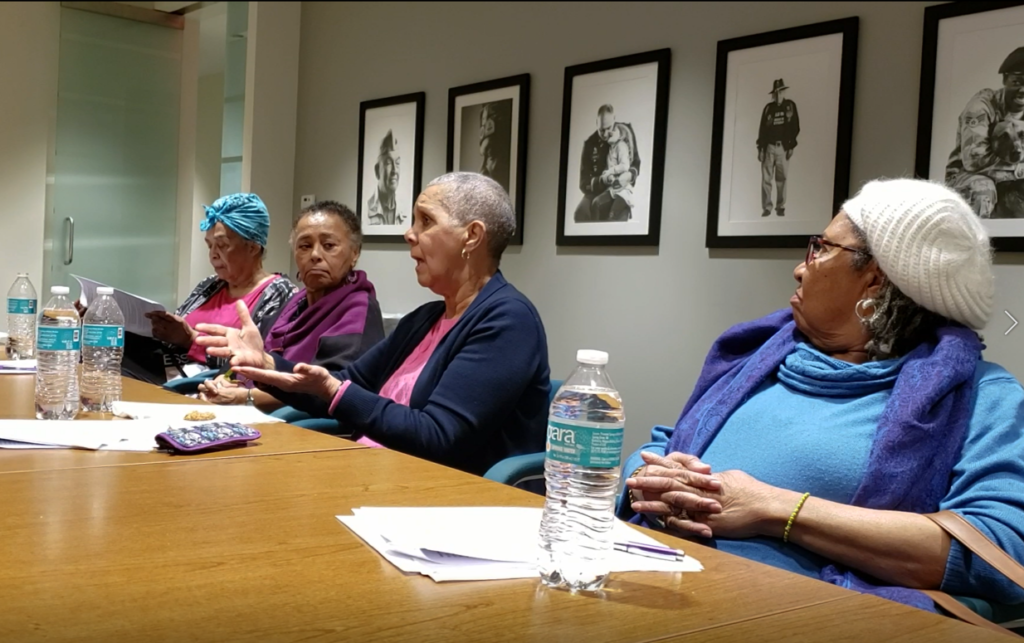 Lead Advisors
Charles McLaurin, SNCC Staff 1962-67
Freddie Biddle, SNCC Staff 1963-68
Emilye Crosby, PhD, Professor of History, SUNY Geneseo
Pamela Walker, PhD, Assistant Professor of History, Texas A&M University
Additional Advisors
Daphne Chamberlain, PhD, Associate Professor of History, Tougaloo College
Juadine Henderson, SNCC Staff, 1963-65
Dorie Ladner, SNCC Staff 1961-66
Joyce Ladner, SNCC Staff 1961-67
William Pretzer, PhD, Senior Curator for History, National Museum of African American History and Culture
Judy Richardson, SNCC Staff 1963-66
William Sturkey, PhD, Professor of History, UNC Chapel Hill
Lead Content Developers: Pennee Bender, Ph.D., Donna Thompson Ray
Researchers: Ellen Noonan, Amber Pelham, Carli Snyder
Senior Research Scientist: William Tally, Ph.D.
Executive Producer: David Langendoen
Senior Producer: Benjamin Galynker
Game Design: Benjamin Galynker, David Langendoen
Additional Game Design: James Hung, Leah Potter
Instructional Design: Leah Potter
Lead Writers: Benjamin Galynker, Leah Potter
Additional Writing: Alison Burke, Kimberly Burnett, David Langendoen
Research (Mississippi): Detrice Roberts
Lead Animator: James Hung
3D Artist: James Hung
2D Artists: Nyusha Iampolski, Meg Lemieur, James Hung
Interface Design: James Hung
Character & Costume Design: Charnel Hunter, Ivonne Karamoy, Nyusha Iampolski
Game Engine & Tools Developer: Dale Gordon
Additional Development: Jordan Ephron
Scripting: David Langendoen, Corrin Offenholley
Lead QA Testing: Corrin Offenholley
Additional QA: Sophia DiPippo
Casting: Michelle Chen
Voiceover Recording and Engineering:
New York: CityVox
Mississippi: Faith Pierce
Voiceover Artists:
De'Cayla Day (Addie Starling)
Victoria Eggleston (Emma Jackson)
Jamaal Fields-Green (Robert Atkins)
Leah Finnie (Lucretia Baker)
Harriett D. Foy (Mabel Starling)
Deja Denise Green (Verna Baker)
Latisha Hamilton (Annetta Hicks)
Johnathan Lee Iverson (Rev. Curtis Starling & Medgar Evers)
Trevor McGhie (Sam Block, Mass Meeting Speaker, Epilogue Co-narrator)
Charles McLaurin (Taxi Dispatcher)
Field Research Support, Greenwood, Mississippi
Earnest & Debra Adams, Owners, Greenwood Community Center (formerly the St. Francis Information Center)
Sister Genevieve Feyen, Midwife, St. Francis Center
Sister Kathleen Feyen, Midwife, St. Francis Center
Brittany Gray, Southern Regional Organizer, Center for Community Change
Larry Griggs, Deacon, Friendship Missionary Baptist Church
Sylvester Hoover, Owner and Guide, Back in the Day Museum
Andrew McQueen, Director, Greenwood Civic Center
John Potts, Owner, Mr. Potts Barbershop
Archival Images:
Center for Southern Folklore, Memphis. Rev. L.O. Taylor: Black beauty shop, ca. 1940s.
Civil Rights Movement Archive, https://www.crmvet.org/
Getty Images: Bettman, Flip Schulke Archives, Jack Garofalo, Underwood Archives
Gordon Parks, Ondria Tanner and Her Grandmother Window-shopping, Mobile, Alabama,1956. Courtesy of and copyright The Gordon Parks Foundation.
Herbert Randall Freedom Summer Photographs, Historical Manuscripts, The University Southern Mississippi. Volunteer Jim Nance, a minister, heading into the Black community to do voter registration canvassing, mus_m351_0510p; and We Shall Overcome; 1964, mus_m351_0749p.
Library of Congress, photographs by Esther Bubley, Jack Delano, Thomas J. O'Halloran, Carl Van Vechten, Marion Post Wolcott, and from the New York World-Telegram and the Sun Newspaper Photograph Collection.
Lucian Venutian
Mississippi Department of Archives and History
NBC News Archives, still images from Mississippi: A Self-Portrait
Portal to Texas History
SNCC Digital Gaway, https://snccdigital.org/
St. Francis Center
Tom & Ethel Bradley Center at California State University, Northridge. John Kouns, March on Washington, 1963; and Selma Voting Rights Campaign, 1965.
Wisconsin Historical Society. Images from SNCC pamphlet, "'Mississippi: Subversion of the Right to Vote," WHI-fsTeckinB1F3000; SAVF-Student Nonviolent Coordinating Committee (SNCC) news release, fsSAVFB48F2000; and The Student Voice, vol. 3 no. 3, gray71-508 00050, gray71-508-00051, and gray71-508 00052
Artwork:
Elizabeth Catlett, Homage to My Young Black Sisters, 1968. © 2022 The Jacob and Gwendolyn Knight Lawrence Foundation, Seattle / Artists Rights Society (ARS), New York
Jacob Lawrence, Dixie Cafe, 1948. © 2022 The Jacob and Gwendolyn Knight Lawrence Foundation, Seattle / Artists Rights Society (ARS), New York.
Norman Lewis, Evening Rendezvous, 1962, oil on linen, Smithsonian American Art Museum, Museum purchase, 1994.32.
Music and Archival Audio:
"The Great Pretender"
Performed by The Platters
Composition by Buck Ram
Courtesy of Panther Music Corp. (ASCAP) and Universal Music Enterprises
"Go Tell It on the Mountain" by Fannie Lou Hamer from the recording entitled Classic African American Gospel from Smithsonian Folkways, SFW40194, courtesy of Smithsonian Folkways Recordings. (p) 2008. Used by permission.
"This Little Light of Mine" from the Moses Moon Civil Rights Movement Audio Collection, Archives Center, National Museum of American History, Smithsonian Institution. Used by permission.
"Uncloudy Day"
Performed by The Staple Singers
Composition by Roebuck Staples
Courtesy of BMG Platinum Songs US (BMI) obo Conrad Music and CONCORD MUSIC GROUP, INC.
"Woke Up This Morning" by Fannie Lou Hamer from the recording entitled Songs My Mother Taught Me, SFW40216, courtesy of Smithsonian Folkways Recordings. (p) (c) 2015. Used by permission.
"You Better Leave Segregation Alone" by The Nashville Quartet from the recording entitled Sing For Freedom: The Story of the Civil Rights Movement Through Its Songs, SFW40032, courtesy of Smithsonian Folkways Recordings. (p) (c) 1990. Used by permission.
Recordings and Field Notes Related to the Civil Rights Movement and African American music in the American South, 1960-1990, in the Guy and Candie Carawan Collection #20008, Southern Folklife Collection, Wilson Library, University of North Carolina at Chapel Hill. Used by permission.
Excerpts from "Freedom in the Air: A Documentary on Albany, Georgia (1961-1962)," Student Non-violent Coordinating Committee. Original idea and field work by Guy Carawan Produced by Alan Lomax & Guy Carawan. Used by permission.
Executive Producers: Jill Peters, Sandra Sheppard
Senior Producer: Michelle Chen
Associate Producer: Jesse Pilnik
Production Interns: Amanda Cruz, Sophie Nadel, Katherine Remelius
Senior Education Producer: Kristina Kirtley
Curriculum Consultants: Dominique Jean-Louis, Katie Uva, Daniel Sigward
Logo Design: Brian Whitehill
Music Supervision: Emily Lee, Caleb Jarmon
Budget Controller: Adiata DeVore
Attorneys: Laura Ball, Marta Castaing, Jane Pennebaker
Marketing and Communications: Lindsey Horvitz
Publicity: Winter Group
Vice President, Programming: Stephen Segaller
Special thanks to:
Michelle Block
Veronica Block
Candie Carawan
Charles Hughes, PhD, Director of the Lynne and Henry Turley Memphis Center, Rhodes College
Mississippi State Senator David L. Jordan
St. Francis Center