Each Mission Guide includes
A link to the mission
Classroom activities
Overview information
Classroom videos
Historical background
Primary sources & Resources
1770: the american revolution
For Crown or Colony?
For Crown or Colony? puts players in the shoes of Nat Wheeler, a printer's apprentice in 1770 Boston. They encounter both Patriots and Loyalists, and when rising tensions result in the Boston Massacre, they must choose where their loyalties lie.
1848: The antebellum era
Flight to Freedom
In Flight to Freedom, players take on the role of Lucy, a 14-year-old girl enslaved in Kentucky who escapes to Ohio. As Lucy joins a community of abolitionists, players discover that life in the "free" North is dangerous and difficult. In 1850, the Fugitive Slave Act threatens all African Americans in the North and brings new urgency to the anti-slavery movement.
1866: westward expansion
A Cheyenne Odyssey
In A Cheyenne Odyssey, players become Little Fox, a Northern Cheyenne boy whose life is changed by the encroachment of white settlers, railroads, and U.S. military expeditions. As buffalo diminish and the U.S. expands westward, players experience the Cheyenne's persistence through conflict and national transformation.
1907: The immigrant experience
City of Immigrants
In City of Immigrants, players navigate New York's Lower East Side as Lena, a young Jewish immigrant from Russia. Trying to save money to bring her parents to America, she works long hours in a factory for little money and gets caught up in the growing labor movement.
1929: The great depression
Up from the Dust
In Up from the Dust, players take on the roles of twins Frank and Ginny Dunn, whose family wheat farm is devastated by the Great Depression and Dust Bowl. As they experience the hardships of the 1930s, players learn about Americans' strategies for survival – as individuals, communities, and a nation.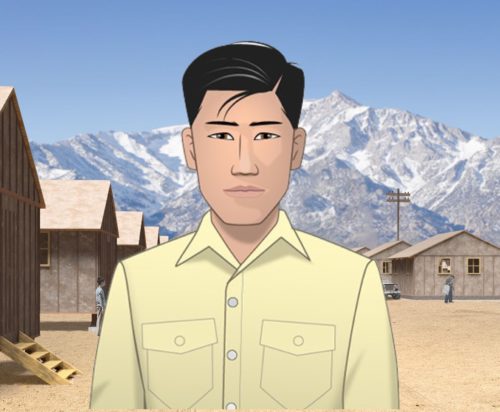 1941
World war II
Prisoner in My Homeland
1941: World war II
COMING SOON: Prisoner in My Homeland
Prisoner in My Homeland follows the experiences of teenager Henry Tanaka, whose family is forced to leave their home on Bainbridge Island, WA, for a prison camp in Manzanar, CA. Players grapple with the choices and challenges faced by more than 120,000 Japanese Americans as they coped with their unjust incarceration during World War II.